You're facing off against big and well-established concrete polishing contractors. To set yourself apart from the competition, the first choices you make in concrete floor grinding equipment are critical.
When you're making such a significant investment, you don't want to choose equipment that is costly to operate or that will set you back decades from the competition. Powerful, efficient machines will cut your operating costs and will help you win more jobs.
We'll walk you through the four most crucial qualities to look for in your first concrete grinder.
Essential Considerations for Your Concrete Floor Grinder
1. How Many Rotating Heads Your Floor Grinder Has
Concrete floor grinders that use multi-disc technology are essential for more efficient grinding with cleaner, polished results.
For example, consider a traditional planetary machine that typically has three heads rotating on one large disc. Planetary machines focus on diamond contact around the perimeter of the device, leaving the middle bare. To achieve optimal grinding here, the operator has to move quite slowly to ensure each rotating head, and the diamond tools attached to them, manage to travel the full circumference of the machine to grind every inch of the floor.
Planetary machine operators will also often have to swivel the machine back and forth to get the coverage they need against the concrete. And in some cases, they need to add weight to the machine to force the diamonds to cut.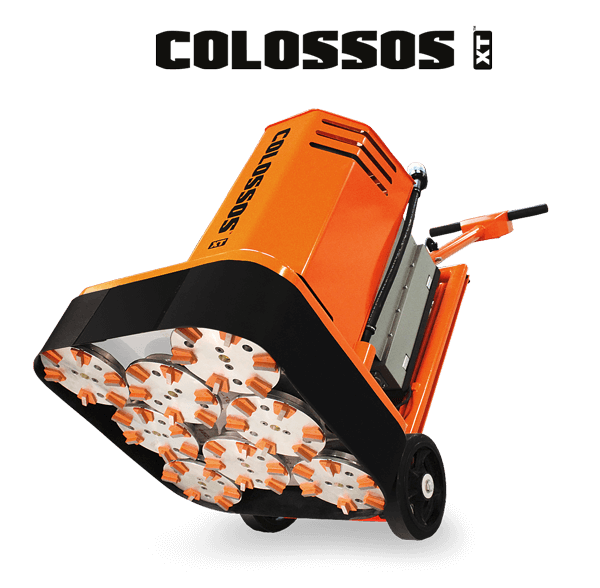 With a multi-disc floor grinder, like on any WerkMaster machine (using between 5 and 10 discs), more heads mean more effective grinding with less effort. The multiple discs fixed in place with individual drive shafts and plates allow the discs to rotate at higher RPMs than planetary machines can, and the layout of the discs ensures the entire floor beneath the machine is fully abraded.
WerkMaster machine designs allow for easy maneuverability in any direction, which reduces operator fatigue and gets them moving from one job to the next without exhaustion.
See WerkMaster in action with the Planetary vs. WerkMaster Concrete Floor Grinder video here.
2. How Close Your Concrete Grinder Gets to the Wall
Most people in the industry will agree that edging is consistently one of the most painful parts of concrete floor grinding.
Edging can represent anywhere from 30% to 60% more labor on a job. That labor not only hurts you physically, it also hurts your pocket—every hour spent edging increases the cost of your job. Without effective edging, it could be challenging to remain competitive within the industry against multi-person grinding crews, and you don't want to have to sacrifice your profit margins to do so.
Choosing a grinder with the proper disc technology that can grind and edge in one pass is the best-case scenario for you. You'll want a floor grinder that's designed to get you as close to the wall as possible.

For example, all of WerkMaster's concrete floor grinders are designed to get you within 1/8" (3mm) to the wall—the tightest edge in the industry. That means you only need one machine that can do the work of two. Additionally, you don't have to get down on your hands and knees with a hand-grinder and edge at a literal crawl. This could mean the difference between minutes and hours spent on edging, and those time and labor savings can go straight into your profit margin.
3. Your Concrete Floor Grinder's Versatility
As mentioned in the previous section, grinder versatility is essential—especially for sole proprietors or smaller crews. Your machine needs to be able to do more with less to keep your time and labor costs down and ensure each job you get is profitable.
In addition to getting machines that can grind and edge to save time, you should investigate what kind of tooling is available to you. Because different types of concrete can have different abrasion strengths (see how you can test for yourself using a MOHS Hardness Scratch Test Kit), which can differ from area to area, the ability to change out your tooling easily is critical. Any time you use on a job that's not spent polishing concrete affects your bottom line.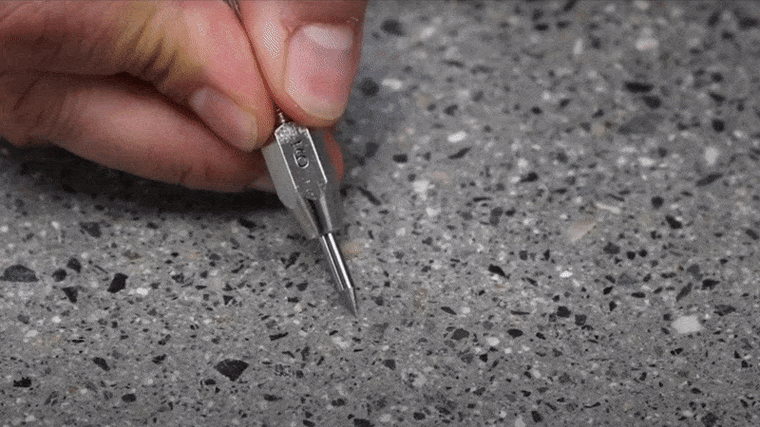 WerkMaster designed the Ultra-Flex Plug 'N Go tooling system so operators can quickly change out their tools between jobs (or between different areas on one job, if necessary) with ease.
4. Power Supply
When choosing the best concrete floor grinder for your business, it's important to consider your power supply and the pros and cons related to it.
Your floor grinder could be electric or propane. Although propane-powered machines aren't limited in movement by electrical cords, you'll have to ensure the CO emissions are within safe working environment levels.
It's also worth noting that a propane-powered machine will require slightly more ongoing maintenance (e.g., tank re-fuelling) than an electric model.
When using electric concrete floor grinders, voltage and power are things you'll have to keep in mind. If the facility you're grinding doesn't have the voltage that matches your grinder, you might need a generator or transformer to provide the correct power.
WerkMaster grinding machines have auto-sensing variable frequency drives (VFDs) that allow you to operate on 230V single-phase or 3-phase. And in the case of the Colossos XT, you can operate on 230V or 460V 3-phase only.
Choose the Concrete Grinder that Suits Your Needs
You're making a considerable investment by purchasing a concrete floor grinder. You must find one that suits the needs of the jobs you're bidding on, the facilities you're working in, and the business objective you're aiming for.
Be sure to ask the manufacturer about the specific points we outlined in this blog and see how their machines stack up.
Lastly, when you're looking into multiple manufacturers, choose one that offers extensive support and training like WerkMaster, so you'll be prepared to secure the edge on your competition and leave them in the (concrete) dust.